Top Hair Loss Shampoos and Hair Regrowth Products For Men in Singapore - By Vanilla Luxury
The best hair loss shampoos for men that help with hair regrowth for a thicker, fuller mane
-
With one in every two men experiencing some form of balding by the time they hit their 50s (or earlier), male-patterned hair loss, is a very real conversation to be had*. Balding and hair loss in men can start as early as the teenage years due to the male hormone DHT. 
DHT levels vary as you grow up - stress, genetics, medical conditions, and other factors can trigger an increase in the hormone, leading to hair loss.
If you are balding or have thinning hair firstly, know that you are not alone. Plenty of men in Singapore suffer from hair loss and balding issues. Finding the right hair loss shampoo and hair regrowth products is the next step.  The regular use of a scientifically-backed hair loss product can stimulate follicles, clean your scalp, and promote the growth of hair all while leading to lesser hair loss. 
This list of the top hair loss shampoos for men in Singapore will make your hair regrowth journey easier. From well known international brands to homegrown hero products, these are the best hair loss shampoos and hair regrowth products for men, you should consider.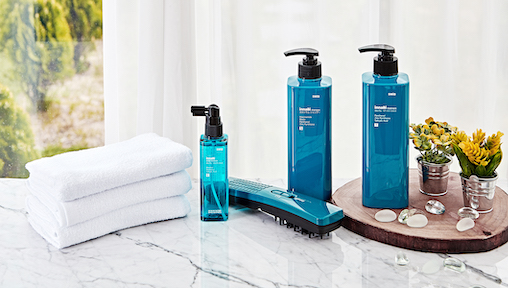 When a hair loss treatment sells over a million sets, you know they've got what it takes! Korean hair experts SMIB are known for their scalp health solutions that use the transformative powers of Coral Calcium. This breakthrough ingredient helps maintain a healthy scalp and is one of the best components to add to your hair care range.
In fact, SMIB is the first hair loss treatment brand in Singapore to introduce Coral Calcium into their range of products, and a pioneering Plasma Technology via a portable scalp massage device.
SMIB products primarily work towards the cleansing of your scalp. When the scalp is clean, you produce less oil or sebum resulting in lesser hair fall.  
SMIB's Coral Calcium Shampoo maintains that healthy scalp and relieves itching due to inflammation. Free from 23 harmful ingredients, including silicones, this hair loss shampoo contains six protein and marine complexes such as Niacinamide and Biotin, that keep hair silky and smooth. 
If you are after real, research-backed hair growth results, we would highly recommend getting the entire SMIB hair regrowth treatment set. Starting at just $199.90 the set comes with SMIB's shampoo, Calcium Treatment, a groundbreaking Plasma Scalp Massager and a Coral Calcium Hair Essence. A clinical test report showed that when used together, SMIB's hair loss shampoo and hair regrowth products helped to soothe the scalp, reduce the number of missing hair, improve scalp elasticity and increase tensile strength. Don't forget to use their Plasma Scalp Massager which incorporates Plasma Technology and has been tested to improve scalp health and prevent hair loss. An effective treatment backed by tons of customer reviews, SMIB's affordable hair regrowth treatment is indeed the route to counter hair loss in men!
SMIB's best selling Complete Set retails includes a Plasma Scalp Massager, Coral Calcium Shampoo, Coral Calcium Treatment and the Coral Calcium Hair Essence.
*Source:  https://www.vanillaluxury.sg/magazine/top-hair-loss-shampoos-and-hair-regrowth-products-men-singapore